The Navarra family
The "patriarch" of the family was Don Ezequiel Navarra born in 1883 in Santa Lucia a suburb in Montevideo Uruguay. At the end of  19th century moved to Buenos Aires, opening a billiard club. There with all his comfort would had the time to teach billiards to his children and make them champions. But first teached billiards to his nephew Enrique. Born in 1905, when he was ten years old  his parents sent him to spend a few days with his uncle Ezequiel and play some billiard. The uncle saw the talent of the boy and "the few days" of billiard evolved in 8 hours practice a day. In over six months the little Enrique played quite well. At the age of 19 became Argentine champion in cadre 45/2. In 1937 won the national free game championship and 1948 3 cushion championship. In 1949 won the south-american championship, again in three cushion. The greatest achievements of Enrique at international level was of course the world three cushion championship in 1953 and 1958 and the second position in 1954 pentathlon in  Buenos Aires behind the great Pedro Carrera. Enrique died in 1994, leaving a rich legacy in Argentinian and not only billiards.
The next students of Don Ezequiel were his children  Juan Navarra (1914-2000), Ezequiel Navarra (1917-1993) and Enrique Navarra (1924-2009). We'll deal more with Juan and Ezequiel because Enrique though he loved  three cushion game eventually devoted to artistik biliards. His biggest successes was the second place in 1946 Argentinian and south-American championship in three cushion.
Juan dealt with games of series and three cushion while Ezequiel mainly with three cushion. A wonder boy Ezequiel from an early age, he made 200 run in free game when he was nine years old.Also had another speed record with 500 points run in 17 minutes. Many believed that if he was dedicated to series games would become a second Roger Conti.
Eventually devoted himself to three cushion. Juan except billiard was most passionate about football and played for some years in small groups of Boca Juniors, but an ankle injury forced him to quit football and deal with billiards.
In 1941, Juan won the South American championship in free game.
In 1947 traveled both in America and played in the national three cushion championship won by Ezequiel with Juan taking second place. From this year and after the World Billiard federation  proclaimed them as professionals players. The same year happened a funny incident to Pedro Carrera worth mentioning. Carrera traveled to France to play a friendly match  with Conti. When the world billiard federation learned about this, excluded him for one year from the international organizations beacuse was not allowed to an amateur player to play a professional. Carrera's answer was: "The lesson I got from  Roger deserved much more!!".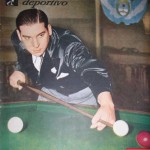 In 1949, Ezequiel will face in a friendly three cushion match at 1500 points the world champion Willie Hoppe and beat him with 1.23 average (1500-1316). Ezequiel deified by 45000 people.
In the 1954 world three cushion championship of Buenos Aires, Juan with Ezequiel while favorites took second and third place respectively, with the winner Harold Worst stating that he felt threatened by a hostile crowd and the local mobsters!
The great moment in Ezequiel's career came in 1963 when he became world champion in three cushion in Argentina while Juan won the world three cushion championship of 1969 and 1972 in Mexico.
I could write much more about  brothers Navarra but the article should be finished somewhere…